Get in touch, stay in touch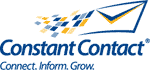 Tripod has partnered with Constant Contact, the leading provider of e-mail marketing solutions for small businesses.
E-mail newsletters are a great way to get customers and prospects interested in your business and to encourage them to take action. They're inexpensive to create and more effective than regular e-mails.
You don't need design or coding skills either. Constant Contact makes it easy for you to create your e-newsletters with one-click editing and more than 400 templates to choose from.
Why use Constant Contact?
Affordable

— priced for small business. Start FREE!

One-click editing

— super easy to use, no tech skills required to build e-newsletters.

Results oriented

— learn who opens and reads your e-mails and which links they click.

Free, personal coaching and support

— phone, e-mail and chat.