Make your site memorable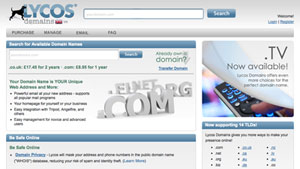 Tripod offers domain names and e-mail addresses through Lycos Domains. With more than 10 years of domain management experience, Lycos Domains takes the worry out of buying and managing your domain name. If you already have a domain name, we'll show you how to transfer it to your Tripod account.
Get a free domain name.
To make things even easier, when you subscribe to the Advanced plan, you get a domain name free. You also get 100 subdomains, domain forwarding and domain transferring with your subscription.
Get an e-mail address with your own domain name
Every Lycos domain automatically comes enabled with our powerful webmail platform. With the Advanced plan, you get 20 e-mail accounts, 1 GB of storage per e-mail account, 20 e-mail forwards and our catch-all e-mail service.
Get a Tripod Account